Surprise!! Surprise!!! Surprise!!!
Click here to go to my channel!
I have a YouTube channel! I know I said I wouldn't start a channel but, I wanted to do something different . I'm tired of just working and going home or coming home and going to work. This is my first show recap so be patient with me. This episode is called And so it begins.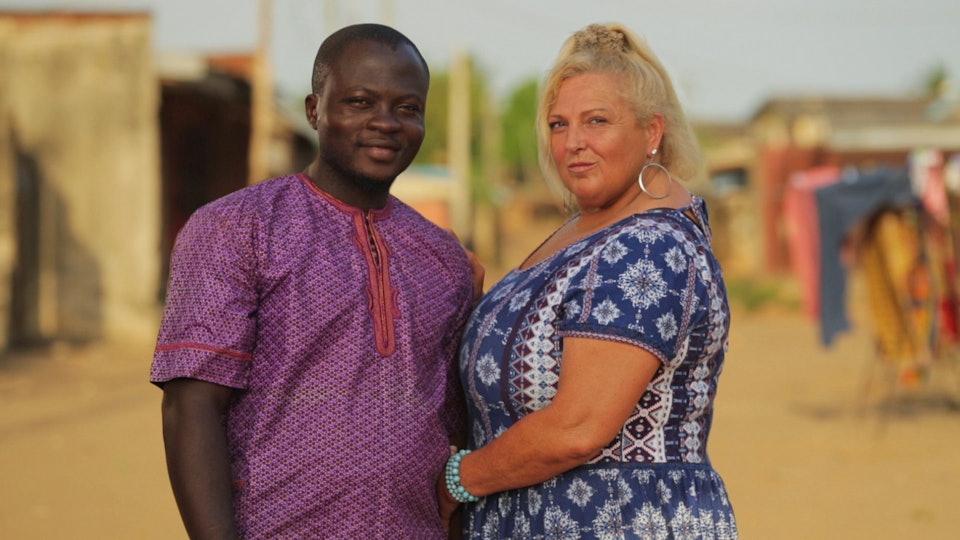 Angela and Michael
Angela, 52
Hospice Nursing Assistant.
Angela (Angie) is from Hazlehurst, GA. She's a mother of two , a grandmother of six , and a daughter.  Angela is taking care of her mother (she's suffering from cancer). All the generations are in one house and they watch out for each other.  She's a woman who used work and family as a coping mechanism after heartache. Now let's bring in the nonsense.
Angela was on Facebook one day and got a message from a guy named Michael. Michael is from Nigeria, he's 30 years old and at the moment we don't know if he's working or not but we know that he wants Angela. They've been talking for a few months and after two months Michael asked Angela to come to Nigeria. She agreed to go to Nigeria to propose to Michael and bring him back to United States . Needless to say Scottie (Angela's daughter) is not excited about her mom's new relationship. She's especially not excited about her mother working two jobs to pay for a ticket. That ticket ain't cheap!!!
On to the next couple.
Rachel and John
Rachel, 33 (Albuquerque, NM)
Job: Unknown
Rachel is a "solo" mom of two children. Her eldest child Ella, is from her first marriage and her youngest child, Lucy (8 months) is from and I truly believe was a friends with benefits situation. Well during her time with dating her friends with benefits situation she was talking to John. I forgot to tell you guys that Rachel and John met on a karaoke app.  After the friends with benefits situation ended and he told Rachel that he didn't want to deal with her and baby Lucy, she had to confess to John. Instead of ending the "relationship" he made the decision to stay and help raise Lucy. How in all hell can you raise a baby through FaceTime? Anyways, John was supposed to come to the United States but a criminal record will throw a wrench in your Visa plans. Seems that John likes whoop ass and take names , he also likes to fight in bars and spend cold nights in a jail cell. So Rachel have birth to Lucy while John was on the phone, eww, and Rachel sent a piece of Lucy's umbilical cord. WHAT THE FUCK!!!! Rachel now has to go to the U.K. to see John and she's taking her eight month old daughter in tow.
Next couple, or not?
Ricky and Melissa
Ricky, 33 (Columbus, OH)
Job: Professional Photographer
Ricky is a soon to be twice divorced father of two and after being depressed he went to a Latin dating site to find a new love. He met Melissa, 28 , on the dating site and he's smitten. Melissa has big breasts, manufactured ass and blonde hair and Ricky is in love. He has never FaceTimed Melissa, I mean he tried but there was "a glitch".  Ricky has full custody of his oldest daughter Amber, 12 and while he's talking to her he tells her that he bought a "proposal" ring for Melissa. He's bought an engagement ring for a woman he's never seen but there's more to the nonsense.
On to the old and tired couple.
Darcey and Jesse 😑
Darcey, 42 ( Middletown, CT)
Fashion Industry worker (She literally said that)
Darcey and Jesse are from a previous season and I guess Darcey hasn't missed being a victim of gaslighting. She's the career driven older woman who's dating 24 year old model Jesse. Jesse is a straight, no chaser, son of a bitch, he's mean and calls Darcey delusional for thinking that Jesse would be a good father figure for her two teenage daughters. If Darcey is so delusional, then stop taking her money and taking trips to the U.S. Darcey is going to spend some days with Jesse in New York before having her daughters (Anniko and Aspen) meet them.
And we're back to Rachel.
Rachel is hanging out with her besties and  they are skeptical about her and John's relationship. Then Rachel brings up that John pays for Lucy's daycare bills weekly. That's nice or whatever.  Rachel also bought up John's criminal record and her friends were shook.
Now the crazy.
Paul and Karine pronunciation (Karini)
Paul , 34 (Louisville, KY)
Job: Being a weirdo
Paul aka Ted Bundy's look alike is back for another trip to Brazil for his child bride, Karine. Paul's mother, Mary is not excited about this trip, actually she's not happy about him dating Karine at all. Would anybody be happy if there child was travelling thousands and thousands of miles for a woman? I mean there's women in Kentucky but hey if he likes it, I love it. Mary's concern only increased when she found sex toys in Paul's luggage. Mary why would you do that? She's so nosey but she wasn't nosey enough to figure out that Paul is going to marry Karine and bring her back to Kentucky to live with him and Mary, yes, he lives at home with his momma. Now , Paul has to show Karine's father ( a retired policeman) his criminal record. Paul's criminal record includes breaking a restraining order and arson, so Karine's dad has every right to be concerned. Question: How's he going to read the criminal record? Karine or anyone in her family doesn't speak English and Paul's dumbass doesn't speak Portuguese.
Angela's trip to the pawn shop.
Angela is has put an engagement ring from the pawn shop on layaway and her daughter Scottie is visibly upset because she feels like her mother is desperate. Angela ignores Scottie feelings and gets the ring for Michael.
Let's fast forward to Angela's going away party.
Angela bought up that she can't smoke while she's in Nigeria, which is good, I mean Angela is a chain smoker and is witnessing her mother suffering from cancer. So that part is a silver lining for the trip to Nigeria. Scottie is still pissed and is making common sense points to the possibilities of Michael possibly scamming her mother. Unfortunately, Angela didn't listen.
Ricky the Catfish Victim
Ricky is at a pub playing pool with his friends, they know about his trip to Columbia to see Melissa but they didn't know what Melissa looked like. They definitely didn't know that Ricky was sending Melissa (the nurse)  money on a weekly basis. He brings up that Melissa been dealing with hard times and he believes that a man should take care of his woman. That's the only thing I somewhat agree with coming out of Ricky's mouth. After he shows his friends pictures of his Columbian cutie, they are in disbelief and address that he might be getting catfished. Now when the friends went to talk to the TLC producers, they said how she was out of his league and that he was being used for his money.
Let's fast forward to Ricky packing for Columbia.
Ricky is noticing that Melissa's long text replies are now short and cold, at that moment he was supposed to shut everything down and blocked her. He doesn't of course because he  wants to follow his heart. Damn dummy.
Back to annoying ass Darcey and Jesse the Gaslighter
Darcey went to New York to pick up Jesse and not even five minutes after picking him up, he's talking shit. Darcey brought up her makeover and he wasn't paying attention to her at all, he wanted to sightsee and talk slick.
In conclusion, I'm a little discouraged with these couples mainly for the children. They  want to add people in their children's lives that I believe are unworthy. Melissa (if she's real) isn't worthy of being around any children especially a young girl. Michael isn't going to stay long in a house with four generations of women and if Scottie can help it, she's about to make his time in America hell on earth. Paul is going to get his ass chewed up and spat out by his mom and Karines parents. Last but not least Rachel is desperate for a father for her daughters not realizing that she might be jeopardizing their safety for a little bit of affection. Next episode there's two more cast members coming in and I'm ready for the new bullshit they got to come.